Silver 925 Jewelry Production Process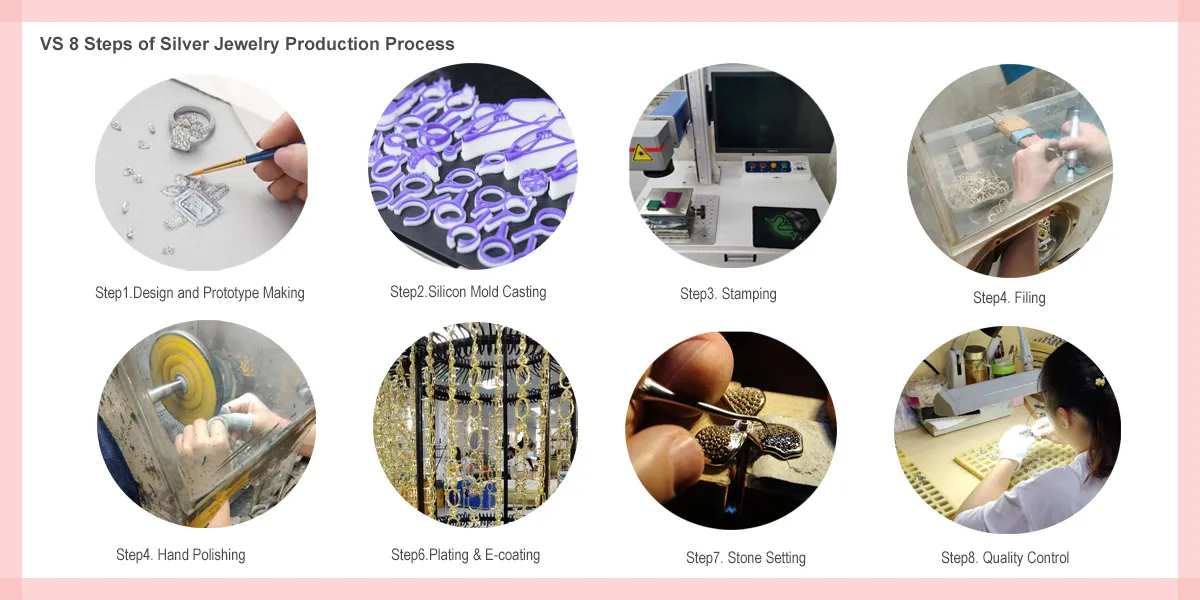 1. Design and Prototype Making

Design and Prototype making is the first step in our production process. This is the most creative part in our business. From something original to type out the product idea on a piece of paper, then use state of the art technology to draw up the idea and bring it to life.
2. Silicon Mold Casting
Lost Wax casting is how we reproduce some of our products. The mold is made from a wax figure that resembles what we drew at the design and prototype process. Professional masters elaborate manual pressure film, rich layers sleek the silicon mold. Then the reverse mold process to put molten metal and allow it to cool. When complete, we will break off any left-over edges or flash that is left on the product and move it to the next stage.
3. Stamping
Stamping is a value-added production process for designed products. This offers a cost-effective, delicate, lightweight designs. We can do traditional stamping or laser stamping based on the designs. Handmade stamping design is also an option for the customized products.
4. Filing
The unwanted bumps and flashed material will be removed from the outer edges. This allows for a flat and smooth finish for the jewelry designs.
5. Hand Polishing
The experienced masters guarantee that every piece goes through the buffing polishing wheels. A fine polished jewelry shine mirror light.
6. Plating & E-coating
Electroplating is very important process to give the piece its final finish. This is done by electro-chemicals and will give the piece its final color of gold, silver, rose gold, rhodium and
black rhodium plating. The e-coating layer protects the products from tarnishing.
7. Stone setting
Every stone is manually setting on the products with different types of tools. The micro setting and wax stone setting techniques are commonly used in our products.
8. Quality Control
Each piece will go through strict quality checked from casting, stamping, stone setting and finishing.